GET BETTER FASTER

It is our mission at Pinnacle Therapy Solutions, LLC, to save you time and money. Our
unique approach
to physical therapy is geared toward getting you better...FASTER. Our goal is for you to notice a positive change at THE FIRST TREATMENT.
We strive for significant improvement in your function within 4-6 sessions
. Some people require less therapy, some require more, but our approach puts you in control of how often you want to come!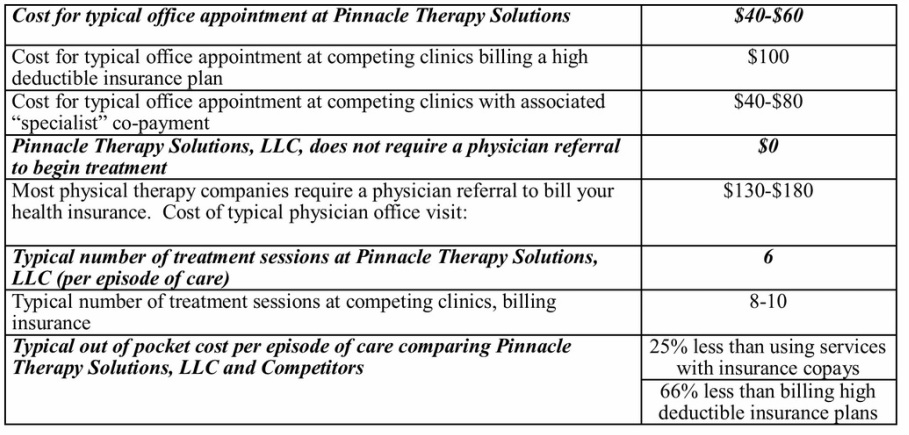 OUR GOAL IS TO SAVE YOU TIME AND MONEY! COMPARE US TO "TRADITIONAL" CARE

Pay as you go: With our cash policy, you pay a little at a time as you need therapy services. There are no surprise bills for hundreds of dollars in co-pays or co-insurance at the end of your course of therapy. Many providers bill your insurance (often around $100 per session) with a 30-90 day billing cycle, possibly leaving you with a significant bill at the end of physical therapy care. At Pinnacle Therapy Solutions, LLC, you are in control of the amount of therapy you use. Treatment is tailored to your individual need.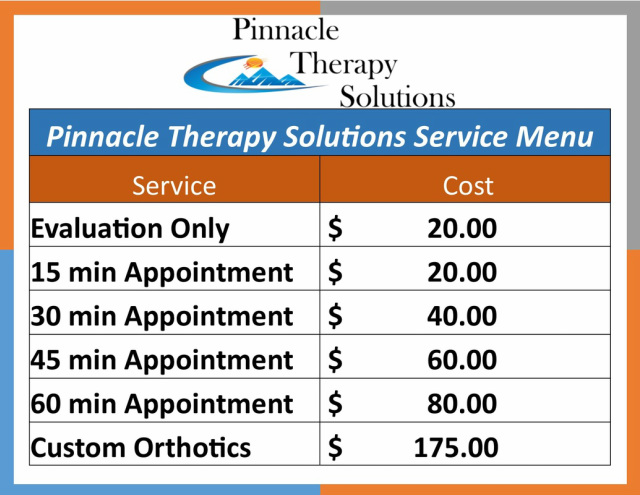 YOUR TIME AND MONEY ARE IMPORTANT. WE WANT TO SAVE YOU BOTH! COMPARE US TO OTHER CLINICS!
The average "traditional" course of outpatient physical therapy at MANY clinics is approximately 8-10 visits, and can typically extend beyond 10 visits. Dr. Josh has personally witnessed cases exceeding 50 VISITS in a calendar year! Dr. Josh feels THERE IS A BETTER WAY TO DO THERAPY!
COMPARE THE COSTS
Fewer visits can save your TIME!


Less cost per visit can save your MONEY!


No doctor referral required means greater savings!

How We Do Therapy and Why Our Approach Works

We do hands on, manual therapy (Spinal Manipulation Therapy, Joint Manipulation, ASTYM, and Dry Needling).

We do not waste your time with full sessions of exercise or lecturing.

Your exercise is your homework - we will NOT count your repetitions and then bill you for counting.

We partner with you in your care - you are in control of frequency and duration of therapy.

CUTTING OUT THE WASTE IN HEALTH CARE CONTROLS COSTS!


Free consultations are available to discuss how Dr. Josh can help you!

(920)-882-6000